It's that time of year again, time to give away some free skin care!
As a makeup artist I'm always testing out new products and new lines, and nothing beats finding amazing skincare. This week I'm giving away my new "best friend", this beautiful set by AuraVie. AuraVie is known for products that pack Omega 3, 6 & 9 and Vitamin A, E, C & D, all of which promote healthy skin renewal as well as nature's most powerful antioxidants; Resveratrol & Acai Berry. The combined ingredients result in treatments that renew, revive, and replenish your skin for lasting beauty. The giveaway set includes:
1: AuraVie's RENEW Facial Toner/Cleanser,
designed to gently remove skin impurities including make-up, dirt and surface oils, without stripping precious lipids.
2: AuraVie's REVIVE Age-Defying Serum, an all-in-one serum that lifts and firms the eye area, face and neck, improving elasticity while diminishing dark circles, fine lines and wrinkles.
3: AuraVie's REPLENISH Day/Night Moisturizer,
formulated to increase moisture retention, smooth skin texture, and encourage natural cell regeneration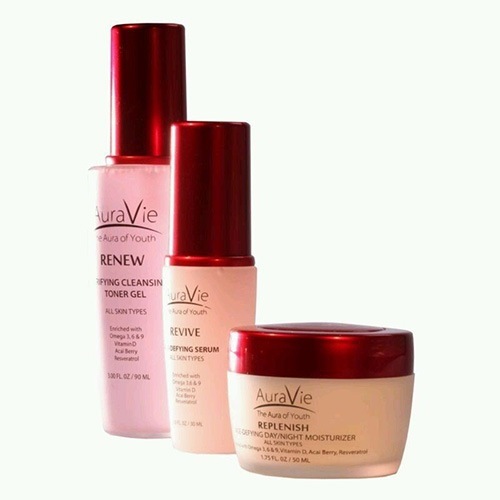 The line is absolutely beautiful and truly a one-stop-shop for those needing a pared down yet effective regiment for their skin. This combo, the Skin Rejuvenation Regimen, is valued at $329.99 but I'm giving it away to one, lucky, contestant this month! Here's how to enter:
All you have to do!

1:

Become a follower of Sunsetand5th via Bloglovin or GFC, (if you already are, let me know)!

2:

Comment back here with your email address and why you'd like to try this amazing bevy of products. (If you already have a favorite, let me know)!


3:

For a second entry, tweet this contest and let me know in an additional comment line.


4:

For a 3rd entry, Instagram the contest and let me know in an additional comment line.


5:

For a 4th entry, facebook or blog this contest and let me know in an additional comment line.
Entries are open worldwide.
Contest ends 9/13/14
Bonne Chance!
With Love,
Noa B